Investor Relations
Edgewood Real Estate Investment Trust (REIT), its trustees and its advisors strive to earn a solid return for investors while managing our properties with the utmost respect, care and efficiency.
As our asset base has grown to more than $1.1 billion, Edgewood REIT has worked hard to ensure that each shareholder is fully informed about our financial performance.
2022 Annual Report
Read the latest annual report (pdf) for Calendar Year 2022.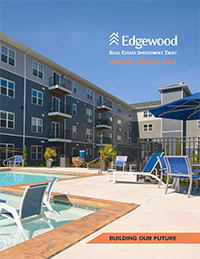 Quarterly Reports
Stay informed of our overall performance throughout the year with our timely quarterly reports.
Download Quarterly Updates:
2023: Quarter 2
2023: Quarter 1
2022: Quarter 4
2022: Quarter 3
2022: Quarter 2
2022: Quarter 1
2021: Quarter 4
2021: Quarter 3
Financial Highlights
Get a quick snapshot of the financial health of Edgewood REIT.
See Financial Highlights